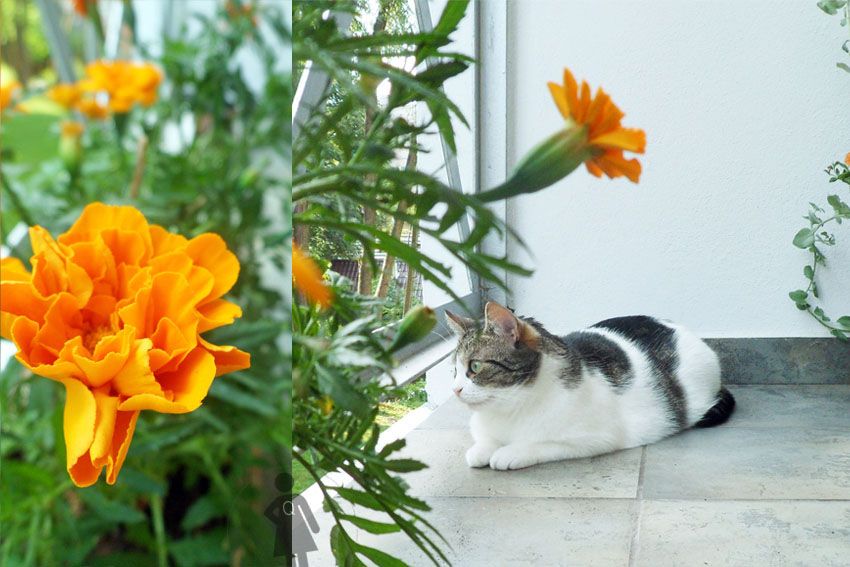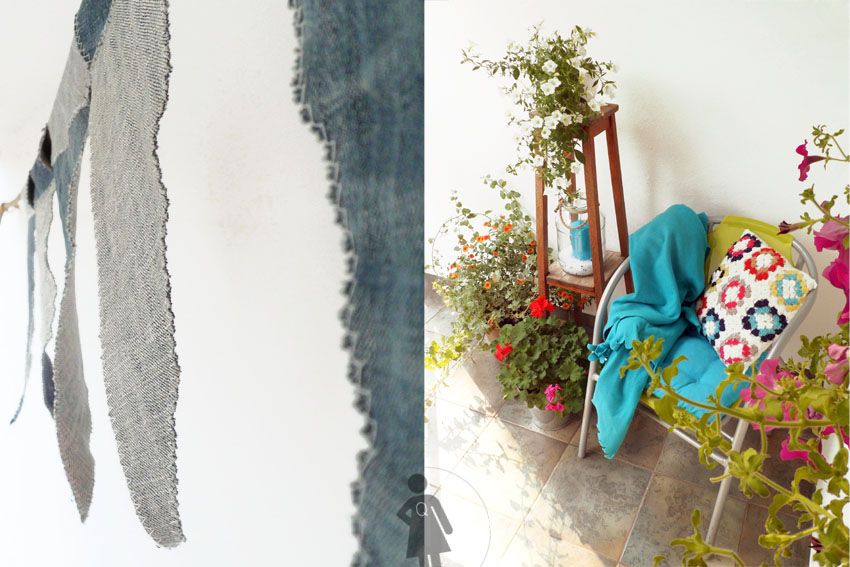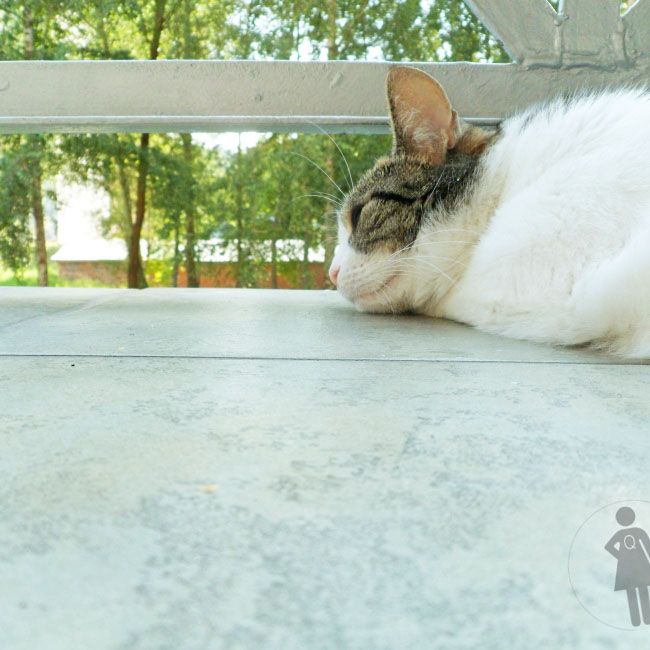 Balkon, jaki jest, każdy widzi.
Wiem, wiem, tak naprawdę to loggia. Nieważne;)
Wyjście na balkon umiejscowione jest nietypowo, bo w bocznej ścianie (jak widać tutaj).
Ponieważ kanapa w dużym pokoju, na której zazwyczaj się moszczę, stoi naprzeciwko drzwi balkonowych, więc czy tego chcę (teraz), czy nie (wcześniej), widzę balkon prawie w całości. Nie wiem, jak innym, ale mi tam przyjemniej patrzeć sobie na coś miłego.
"Przedłużenie salonu", "dodatkowy pokój" i tym podobne frazesy o balkonach czy tarasach powtarzają się w każdym programie/artykule o wnętrzach. No niech będzie, przynajmniej latem to prawda.
A więc nasz czwarty pokój wychodzi na zachód; gdy wracamy z pracy jest oświetlony aż do wieczora. A po zmroku nie ma na nim komarów - zupełnie nie wiem, jakim cudem (ale narzekać nie będę).
Natomiast po sąsiedzku, bo na pobliskiej brzozie, mieszkają sroki. Wzdłuż żywopłotu spacerują koty. Przedwczoraj w krzakach hałasował jeż. Kiźka oczywiście ma na ten temat swoje zdanie.
A propos Kiźki.
Dla bezpieczeństwa kota należy założyć siatkę. Do nieszczęścia wystarczy przelatujący owad albo chęć odwiedzenia sąsiadów.
Tak jak Kiźce kiedyś, gdy Rirunio optymista, stwierdził, że przecież kot swój rozum ma i głupot nie narobi. I owszem, kot rozum miał, ale ciekawość była większa.
Na szczęście Kiziuni nic się nie stało.
Riruniowi, po moim powrocie do domu i wysłuchaniu całej historii, też nie...
Siatki jednak nadal nie mamy i mieć nie będziemy. Po prostu
Kiźka jest pod nieustanną obserwacją. A ciekawość jakoś zmalała.
Zakupy na balkon zrobione najtańszym kosztem: krzesełko i lampiony z wyprzedaży w Jysku, przeceniony koc z Ikei, kwietnik wyszperany ze skarbów stodoły.
Obok zwykłych doniczek znalazły się metalowe wiaderka z Castoramy i koszyki od truskawek.
Duży lampion, chorągiewki na sznurach i poduszka granny zostały robione ręcami memi;)
Ku pamięci zapisuję najświeższe zachcianki na przyszły rok:
- dużo truskawek, tych zwykłych i tych wiszących. Aktualnie z czterech krzaczków owocują tylko dwa, co odpowiada trzem truskawkom na osobę.
- hamak, ale nie ten typowy, tylko w formie fotela, bo to krzesełko z Jyska jest niezbyt wygodne. No i w hamaku czyta się dużo przyjemniej.
Koniec gadania. Miłego piątku!