Kiedy zobaczyłam na blogu Anity, że balkon w jej mieszkaniu też ma żółte ściany, to parsknęłam w ekran herbatą.
Ej no, co ludzie mają z tym żółtym? I to w takim spranym odcieniu.
Uwielbiam żółty, w kuchni mam nawet wymarzoną słoneczną ścianę, ale tutaj wyglądał paskudnie.
Urody balkonowi nie dodawała też plastikowa obudowa. Po kiego grzyba pani M. zasłoniła sobie widok na trawnik i drzewa - nie wiem.
Może bała się podglądaczy? ;)

Sąsiedzi nie są tak wstydliwi.
Albo od widoku plastiku wolą zieleń. Zgadnijcie, który balkon jest nasz.
Gdy się wreszcie zabraliśmy za remont, szkarada poszła won.
Potem skrobaliśmy barierkę.
Kolejne popołudnie z Hammerite i można się było brać za ściany.
Zaprawdę powiadam Wam, że kolor wcale nie był taki intensywny, jak mi to poniżej wyświetla mój ekran.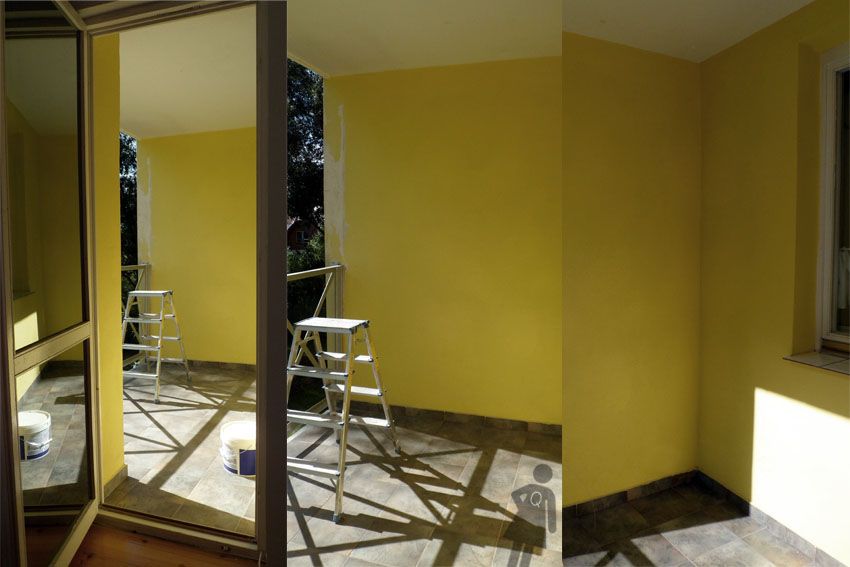 Wreszcie fanfary! I bolesne wnioski.
1. Nie warto słuchać faceta i kupować tańszej farby. Malowaliśmy 10 razy!
Po trzecim malowaniu i uwidocznieniu kolekcji żółtych prześwitów zachciało mi się płakać.

Po kolejnych wygibasach na drabinie tupałam ze złości, rzucałam wałkiem o podłogę, rzucałam mięsem,
rozważałam wadę wzroku...
Tylko na samo malowanie ścian i sufitu poświęciliśmy dwa tygodnie.
Skąpy traci dużo więcej niż dwa razy.
2. Przed skrobaniem farby warto zerknąć, czy przypadkiem piętro niżej nie wietrzy się pościel.
Jeśli się wietrzy, warto zapukać i ostrzec. Chyba że nie lubimy sąsiada;)
3. Kiedy mówisz facetowi "przykryj płytki folią, bo pochlapiesz i trzeba będzie skrobać", a on odpowiada
"spokojnie, powycieram" - nie wierz.
Plamy z Hammerite są odporne zarówno na rozpuszczalnik, jak i mechaniczne użycie siły.
Chwała chemii, że na rdzę również.

W następnej notce zdjęcia A.D.2014. Zapraszam:)