To czteroipółletnia dziewczynka.
Prezentem gwiazdkowym dla Fizi, który to prezent pracowicie szydełkowałam już od września.
Miesiąc wcześniej Fizia wprowadziła się do uroczego, różowego pokoiku.
Kiedy zobaczyłam te kolory - wiedziałam. Będzie różowa podusia, albo różowy pledzik,
albo seria słodkich obrazków...
Ostatecznie powstała niezbyt różowa, za to całkiem sporawa sowa
.
Nie powiem, ile czasu męczyłam aparat i ile lamp poustawiałam do zdjęć, ale na moim
ekranie kolory są w miarę zbliżone do oryginalnych.
Jedynie fiolet odmówił współpracy.
Do dziergania wykorzystałam Bobbiny - sznurki w kolorach fuksji (2 motki) i naturalnym (1 motek).
Szydełkowanie było przyjemne, bo przy tak grubym splocie szybko widać efekty i nic to, że
pierwsze ściegi robiłam zgodnie z zasadą "panie majster zrobiłem, mogę pruć?".
Mniej więcej z dziesięć razy...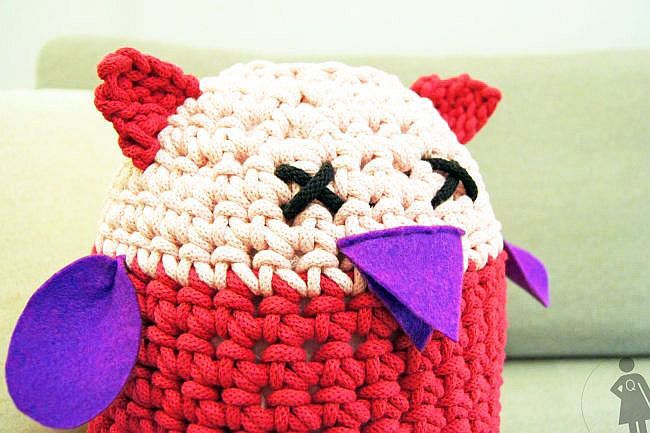 Jestem przeciwniczką publikowania w sieci zdjęć dzieci, dlatego nie pokażę, jak Fizia polubiła się z sową.
A ja zamierzam polubić się ze sznurkową poduszką, którą niedługo (hm?) sobie wydziergam.